FROM SOUTH TYROL. GUARANTEED.
Quality and origin certified by the European Union.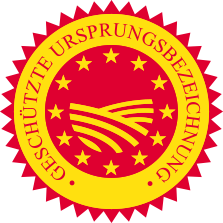 Stilfser/Stelvio PDO Cheese is - along with two other typical products of South Tyrol – the South Tyrolean Apple PGI and Speck Alto Adige PGI – the subject of an EU information campaign aimed at increasing consumer appreciation of the quality marks known as PDO (Protected Designation of Origin) and PGI (Protected Geographical Indication), as well as raising market awareness of the quality policies promoted by the European Union.
The campaign, which uses the slogan "From South Tyrol. Guaranteed. Certified quality and origin", involves Italy, Austria, Germany and the Czech Republic, with advertising in the specialist press, in cookery and lifestyle magazines, not to mention information and tasting initiatives, a number of traditional South Tyrolean recipes reworked in modern style, and a dedicated website www.altoadigegarantito.eu.

Stilfser/Stelvio Cheese PDO has been chosen as an ambassador for authentic quality, as its unmistakable taste – seasoned and aromatic – and its unique goodness can only originate in South Tyrol. The PDO certification forms the link between high-quality regional produce and its provenance in the territory of origin.

The Stilfser/Stelvio Cheese PDO designation means:
• it has been made in South Tyrol using only fresh mountain milk from South Tyrol;
• it has been produced by traditional methods using native microflora as defined by the production regulations;
• it has passed all the stringent checks required by regulations, from milk delivery to maturing tests.

Choosing Stelvio Cheese PDO means choosing an original, safe and genuine product to eat. From South Tyrol. Guaranteed!





Campaign financed with aid from the European Union and Italy
read more...